---
Next
Previous
Up
Contents
Next:
Algebraic Functions
Up:
Other Windows
Previous:
Available Functions Window
---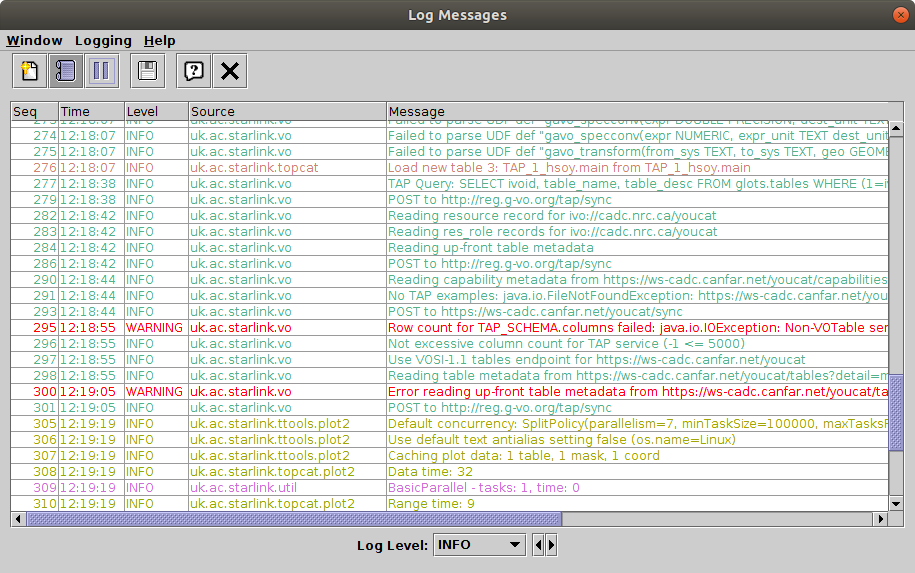 Log Window
The log window can be obtained using the View Log option on the File menu of the Control Window.
This window displays any log messages which the application has generated. Depending on whether the -verbose flag has been specified, some or all of these messages may have been written to console as well (if there is a console - this depends on how you have invoked TOPCAT). Under some circumstances, messages way back in the list may not be displayed.
To clear the display of all the existing messages you can use the Clear Log button (

).
The messages displayed here are those written through Java's logging system - in general they are intended for debugging purposes and not for users to read, but if something unexpected is happening, or if you are filing a bug report, it may provide some clues about what's going on. Although it tries not to disturb things too much, TOPCAT's manipulation of the logging infrastructure affects how it is set up, so if you have customised your logging setup using, e.g., the java.util.logging.config.* system properties, you may find that it's not behaving exactly as you expected. Sorry.
---
Next
Previous
Up
Contents
Next:
Algebraic Functions
Up:
Other Windows
Previous:
Available Functions Window
---
TOPCAT - Tool for OPerations on Catalogues And Tables
Starlink User Note253
TOPCAT web page: http://www.starlink.ac.uk/topcat/
Author email: m.b.taylor@bristol.ac.uk
Mailing list: topcat-user@jiscmail.ac.uk