---
Next
Previous
Up
Contents
Next:
Algebraic Expression Syntax
Up:
Virtual Observatory Access
Previous:
Data Access Services
---
Some services in the Virtual Observatory are authenticated, meaning that you have to log in to use them, or in some cases that you can optionally log in to gain additional rights, such as access to protected datasets or increased resource usage limits. Authentication for these situations mostly behaves as you would expect for an application working with external restricted services, but the details are given below.
If you attempt to access data which is restricted to authorised users, a window will pop up asking you to supply your username and password. Information about the URL you are trying to access will be displayed, so if you are authorized to use the service in question you will hopefully be able to supply the relevant login information. Additional information about how the authentication will be done may also be shown. If you log in successfully data access will proceed as expected, otherwise it will be blocked. Additionally, in the TAP Window you can log in to services for which authentication is optional by using the Log In/Out button.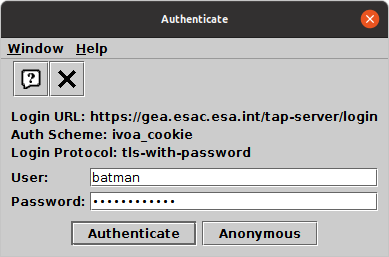 Authentication popup dialogue
Following a successful login attempt, subsequent access to similarly restricted data from the same source should make use of the same authentication information, so it ought not to be necessary to log in to the same service more than once, though in some cases the session might expire after some time, in which case a new login would be required.
If you find yourself logged in to services that you don't want to be logged into any more (perhaps because you want to authenticate as a different user), you can log out of all currently authenticated services using the Reset Authentication (

) action in the main control window File menu.
Authentication status does not persist between TOPCAT sessions, so you will have to log in again to services every time you run the application.
Note: These authentication arrangements in TOPCAT are new at version 4.9, and rely on VO standards that are still under discussion. The behaviour and user interface may change in future releases, and at time of writing not all data services that provide authentication advertise it in a way that TOPCAT can work with. It is hoped that authentication interoperability will improve in future versions of TOPCAT and of server-side software.
---
Next
Previous
Up
Contents
Next:
Algebraic Expression Syntax
Up:
Virtual Observatory Access
Previous:
Data Access Services
---
TOPCAT - Tool for OPerations on Catalogues And Tables
Starlink User Note253
TOPCAT web page: http://www.starlink.ac.uk/topcat/
Author email: m.b.taylor@bristol.ac.uk
Mailing list: topcat-user@jiscmail.ac.uk