---
Next
Previous
Up
Contents
Next:
Plot Forms
Up:
Layer Controls
Previous:
SkyGrid Layer Control
---
The SphereGrid layer control (

) plots a spherical net centered on the coordinate origin. It is available from the Sphere and Cube plot windows, and you can add one of these controls to the stack by using the Add SphereGrid Control (

) button in the control panel toolbar, or the corresponding item in the Layers menu.
The plotted grid is currently not labelled, but it can provide orientation to make clear for instance the position of a bounding unit sphere. Its radius can be controlled by a slider or by entering a fixed value. Since the sphere is always centered on the origin, if the whole visible cube is far from the origin, it may be that few or none of the grid lines show up on the plot.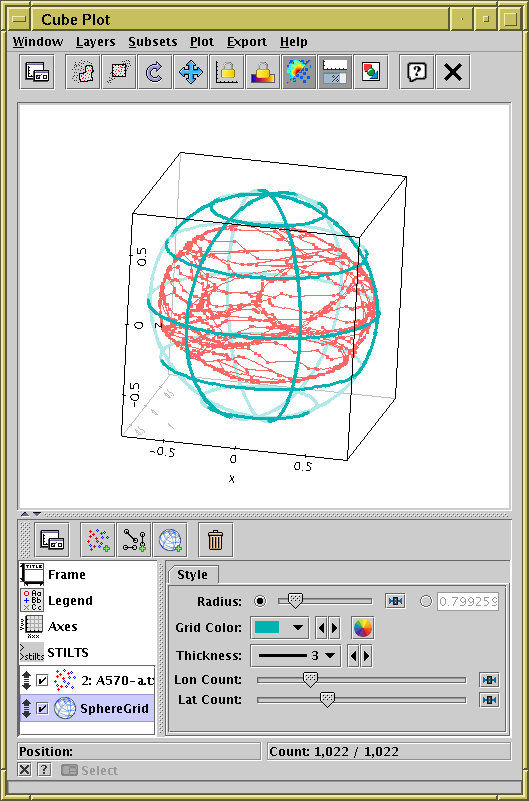 Plot of the XYZ vertices providing surface of an asteroid (48 Doris) with a spherical grid overplotted.
This control has only one tab, Style, with the following fields:
Radius

Defines the radius of the plotted sphere. The slider adjusts the radius as a proportion of the visible plot cube, and the text entry field allows you to enter the radius in data units.

Grid Color

Colour of the plotted grid lines.

Thickness

Thickness of the plotted grid lines.

Lon Count

Determines the number of lines of longitude drawn.

Lat Count

Determines the number of lines of latitude drawn.
---
Next
Previous
Up
Contents
Next:
Plot Forms
Up:
Layer Controls
Previous:
SkyGrid Layer Control
---
TOPCAT - Tool for OPerations on Catalogues And Tables
Starlink User Note253
TOPCAT web page: http://www.starlink.ac.uk/topcat/
Author email: m.b.taylor@bristol.ac.uk
Mailing list: topcat-user@jiscmail.ac.uk