---
Next
Previous
Up
Contents
Next:
Activation Window
Up:
Table Access Protocol (TAP) Query
Previous:
Running Jobs tab
---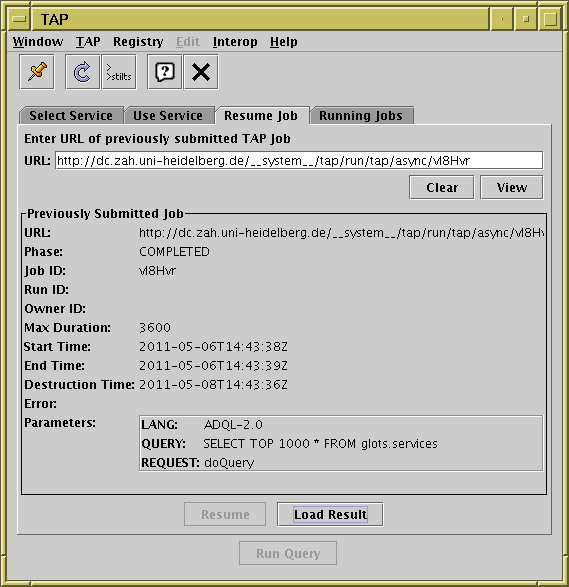 TAP window with Resume Job tab visible
The Resume Job tab of the TAP load dialogue allows you to continue execution of an asynchronous job which was started outside of this run of TOPCAT, either during an earlier TOPCAT run, or using some other mechanism. This may be useful if you have submitted a long-running job on an earlier day or on a different machine and want to monitor its progress or pick up the results.
To use it, enter the Job URL into the URL field at the top and click the View button. If a job with that URL exists, its details will be displayed in the panel below, in the same format as for the Running Jobs tab.
Depending on whether the job has completed or not, either the Resume or Load Result button at the bottom of the window will be enabled. You can click the appropriate one either to monitor its progress further or to pick up the completed result.
---
Next
Previous
Up
Contents
Next:
Activation Window
Up:
Table Access Protocol (TAP) Query
Previous:
Running Jobs tab
---
TOPCAT - Tool for OPerations on Catalogues And Tables
Starlink User Note253
TOPCAT web page: http://www.starlink.ac.uk/topcat/
Author email: m.b.taylor@bristol.ac.uk
Mailing list: topcat-user@jiscmail.ac.uk