---
Next
Previous
Up
Contents
Next:
AreaLabel Form
Up:
Plot Forms
Previous:
Area Form
---
The Central form (

) is available from the Area layer control, and plots a point at the nominal center of the given area. The effect is just the same as for the Mark form, but it can be used from the Area layer control rather than having to specify positional coordinates separately. The plotted position is determined by the plotting code from the shape information; it may or may not correspond to the shape's actual center.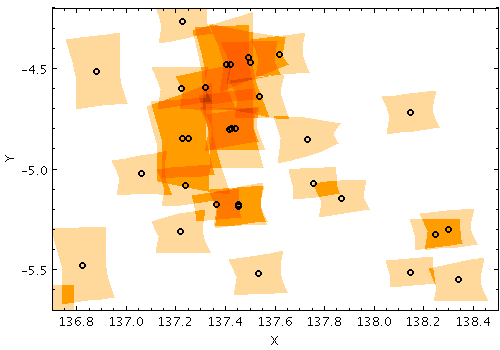 Example Central plot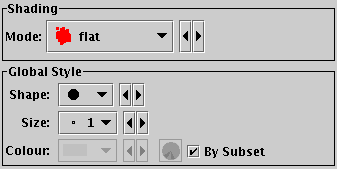 Central form configuration panel
Configuration options are:
Shading Mode

See Appendix A.4.6.

Shape

Marker shape from a list of options.

Size

Marker size in pixels.
---
Next
Previous
Up
Contents
Next:
AreaLabel Form
Up:
Plot Forms
Previous:
Area Form
---
TOPCAT - Tool for OPerations on Catalogues And Tables
Starlink User Note253
TOPCAT web page: http://www.starlink.ac.uk/topcat/
Author email: m.b.taylor@bristol.ac.uk
Mailing list: topcat-user@jiscmail.ac.uk