---
Next
Previous
Up
Contents
Next:
Marks Form
Up:
Plot Forms
Previous:
AreaLabel Form
---
The Lines form (

), available from the XYArray Layer Control, draws a point-to-point line joining all the elements of X, Y array-valued coordinates, resulting in one line for each table row. It is typically used to plot a number of spectra or time series.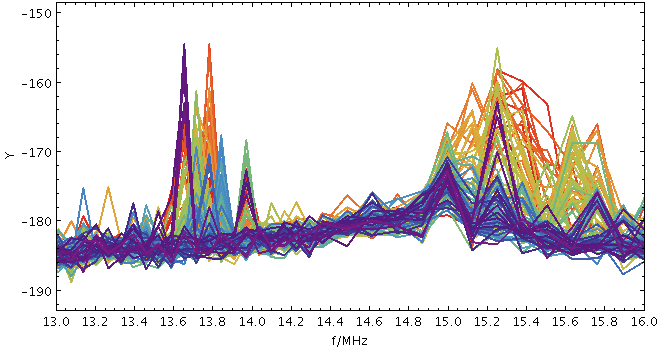 Example Lines plot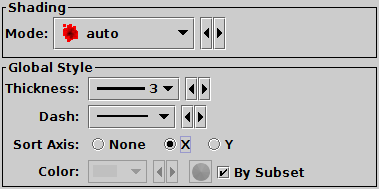 Lines form configuration panel
The configuration options are:
Shading mode

See Appendix A.4.6.

Thickness

Line thickness in pixels.

Dash

Dash pattern. The line is solid by default.

Sort Axis

May be used to sort the points before the lines are drawn. By default (option None) the lines are drawn between the points in the sequence in which they appear in each array. But if you set it to X or Y the points will be pre-ordered along the given axis, so that lines for unordered arrays will come out looking like a function of the X or Y coordinate rather than a scribble.
---
Next
Previous
Up
Contents
Next:
Marks Form
Up:
Plot Forms
Previous:
AreaLabel Form
---
TOPCAT - Tool for OPerations on Catalogues And Tables
Starlink User Note253
TOPCAT web page: http://www.starlink.ac.uk/topcat/
Author email: m.b.taylor@bristol.ac.uk
Mailing list: topcat-user@jiscmail.ac.uk