---
Next
Previous
Up
Contents
Next:
Spectrum Viewers
Up:
Viewer Windows
Previous:
Viewer Windows
---
If you choose the Display Image or Display Cutout Image activation actions, or the View image internally option in one of the DataLink-related actions, TOPCAT will try to display an image in an internal image viewer.
The default image viewer is SoG, an astronomical image viewer based on JSky, which offers colourmap manipulation, image zooming, graphics overlays, and other features. For this to work JAI, otherwise known as Java Advanced Imaging must be installed. JAI is a free component available from Sun, but not a part of the Java 2 Standard Edition by default. In operation, SoG looks like this:
SoG Image Viewer
If JAI or the SoG classes themselves are absent, a fallback viewer which just displays the given image in a basic graphics window with no manipulation facilities is used. The fallback image viewer looks like this: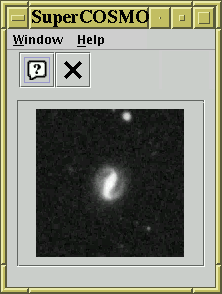 Fallback Image Viewer
Alternative options are available to communicate with external image viewers.
---
Next
Previous
Up
Contents
Next:
Spectrum Viewers
Up:
Viewer Windows
Previous:
Viewer Windows
---
TOPCAT - Tool for OPerations on Catalogues And Tables
Starlink User Note253
TOPCAT web page: http://www.starlink.ac.uk/topcat/
Author email: m.b.taylor@bristol.ac.uk
Mailing list: topcat-user@jiscmail.ac.uk