---
Next
Previous
Up
Contents
Next:
Translucent Mode
Up:
Shading Modes
Previous:
Shading Modes
---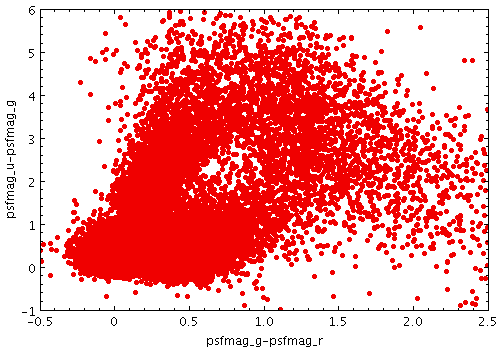 Example Flat shading mode plot

Flat shading mode selection
The Flat shading mode (
) simply colours points in the colour selected by their style. It has no additional parameters or coordinates.
Exporting: This mode works without problem for both bitmapped and vector output.
---
Next
Previous
Up
Contents
Next:
Translucent Mode
Up:
Shading Modes
Previous:
Shading Modes
---
TOPCAT - Tool for OPerations on Catalogues And Tables
Starlink User Note253
TOPCAT web page: http://www.starlink.ac.uk/topcat/
Author email: m.b.taylor@bristol.ac.uk
Mailing list: topcat-user@jiscmail.ac.uk