---
Next
Previous
Up
Contents
Next:
Other Windows
Up:
Viewer Windows
Previous:
Spectrum Viewers
---
If you choose the View in Web Browser action then activating a row will display the web page whose URL is in one of the columns in a web browser. You are given the option of what browser you would like to use in this case.
The basic browser option uses a simple browser which can view HTML or plain text pages and has forward and back buttons which work as you'd expect. In many cases this is fine for viewing HTML pages, and it is available regardless of the system that you are running TOPCAT on. It looks like this: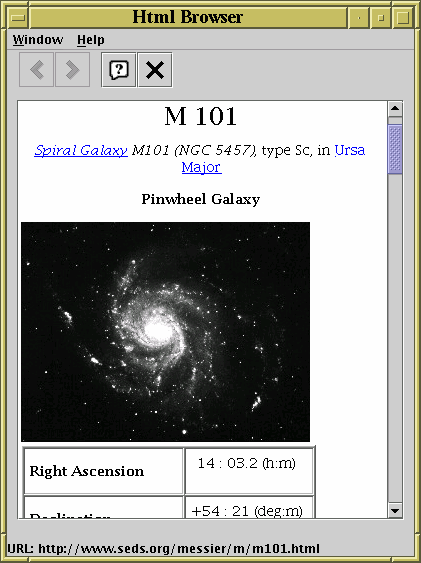 Basic HTML browser
Other options are available for using other installed web browsers, which in most cases will behave better.
---
Next
Previous
Up
Contents
Next:
Other Windows
Up:
Viewer Windows
Previous:
Spectrum Viewers
---
TOPCAT - Tool for OPerations on Catalogues And Tables
Starlink User Note253
TOPCAT web page: http://www.starlink.ac.uk/topcat/
Author email: m.b.taylor@bristol.ac.uk
Mailing list: topcat-user@jiscmail.ac.uk