---
Next
Previous
Up
Contents
Next:
Plot Zones
Up:
Plot Windows
Previous:
Sphere Axes Control
---
This plot window is experimental and lacks some useful features. The details of the user interface may be changed in future versions.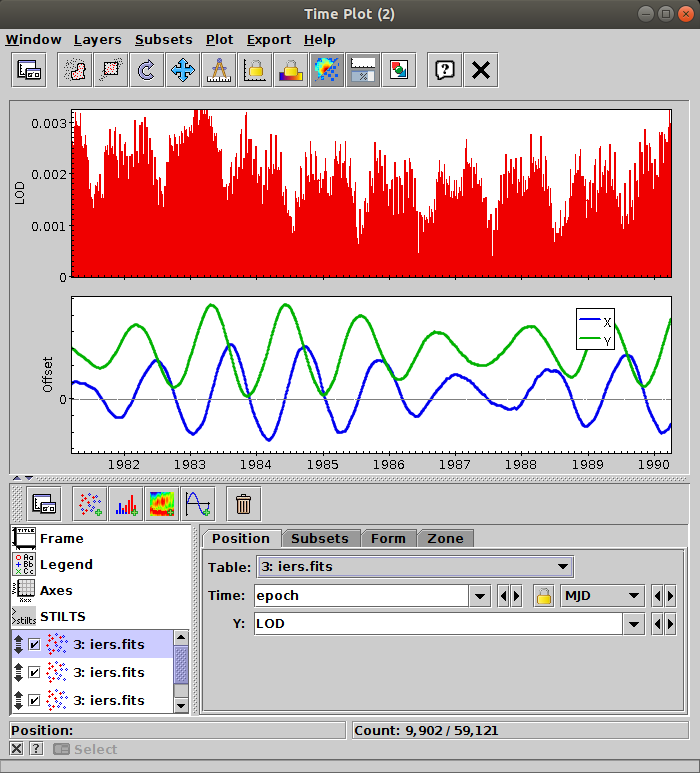 The Time Plot (

) is intended for plotting time series data. You can find it in the Graphics menu of the main Control Window, but since it is currently experimental it does not appear in the main toolbar.
The horizontal axis represents time, and can be labelled accordingly, and the window can display functions of time, scatter plots and spectrograms.
Unlike the other plot windows (at time of writing) the Time plot can display different data plots in different plot Zones stacked vertically on top of each other, so that different plots share a time axis but have their own Y axis.
The Time Plot offers the following plot controls:
As well as the standard actions, this window additionally provides the following toolbar button:
See the Window Overview for features common to all plotting windows. The following subsections describe zones, navigation and axis configuration.
---
Next
Previous
Up
Contents
Next:
Plot Zones
Up:
Plot Windows
Previous:
Sphere Axes Control
---
TOPCAT - Tool for OPerations on Catalogues And Tables
Starlink User Note253
TOPCAT web page: http://www.starlink.ac.uk/topcat/
Author email: m.b.taylor@bristol.ac.uk
Mailing list: topcat-user@jiscmail.ac.uk